Research Botanist and Curator, National Museum of Natural History
Evolutionary biology documents the past and present while helping us to shape our future.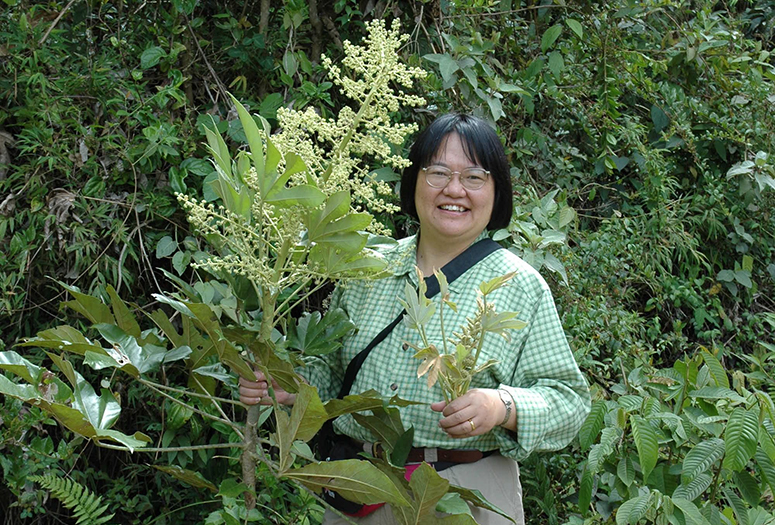 "Building an evolutionary history is the foundation of biology," says Jun Wen, an evolutionary biologist who studies the patterns and processes underlying the diversity of life on Earth. Her work brings together a variety of disciplines—systematics, phylogenetics, biogeography, and ethnobotany—to track the evolutionary history of plants and answer key questions about conservation, horticulture, and medicinal botany.
"Systematics is the comparative study of living and fossil organisms, including their description, distribution, and evolutionary relationships," she explains. "Biogeography is a multidisciplinary science concerned with how and why organisms are distributed on Earth. It occupies a central position in evolutionary biology."
Dr. Wen was first attracted to biology as a child, she says. "I grew up with a fascination for the diversity of various organisms, especially plants and insects, from the time I was very young. In college I got deeper into plant biology, because I had great botany professors."
Since 1985, Wen has specialized in the systematics and biogeography of Asian and New World intercontinental disjunct plants—species that are evolutionarily related but widely separated from each other geographically. Her current concentration on the ginseng and grape plant families takes her around the world. She does field work in rural China and elsewhere, collecting plant samples and specimens, while in the Laboratories of Analytical Biology (LAB) at the National Museum of Natural History she and her students use advanced genomic methods to delve into the evolution of genetically related groups of organisms, a field of study known as molecular phylogenetics.
Her laboratory has produced analyses of a large number of plant groups in about 40 plant families, she reports. "Our studies tested various hypotheses of dispersals, migration routes and timing taken from earlier studies, using various plant groups as models to examine the evolution of plant groups through time and space. These results can be useful for conservation design, especially in Asia."  Her work on the ginseng plant family can help explore additional medicinal resources in the family based on the closeness of evolutionary relationships of the plant species.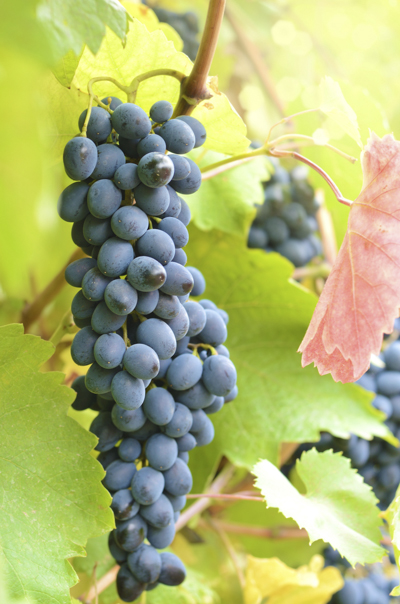 Advances in genomic science are expanding the scope of these studies through multigene approaches. "The advent of next-generation sequencing (NGS) has revolutionized genomic approaches to evolutionary biology," says Wen. "The increasing speed and decreasing cost are contributing to rapid advancements in our understanding of plant evolution and geographic distribution." Wen and her collaborators recently constructed the evolutionary relationships of the grape plant family using 416 genes, using the NGS approach.  The data set is one of the largest produced for a plant family so far and confidently resolved a hard puzzle of an early evolutionary radiation of the grape plant family dated from about 90 million years ago. Previous attempts used up to eleven genes, and did not resolve the relationships at the deep level.
Wen has published some 190 scientific papers and has served as treasurer of the American Society of Plant Taxonomists, as a council member of the International Association of Plant Taxonomists, a co-Editor-in-Chief of Journal of Systematics and Evolution, and on various committees for other professional societies. She is currently working on a series of studies, in cooperation with colleagues in entomology, to explore the co-evolution of aphids, their flowering plant summer hosts, and their winter hosts of mosses that reproduce via spores, in the context of their co-distribution in eastern Asia and North America. She is also writing a book to provide an evolutionary synthesis on the eastern Asian–North American plant disjunctions.  Her laboratory remains extremely active in documenting the species diversity of the grape and ginseng families, and exploring their evolutionary history via molecular systematics and phylogenomics.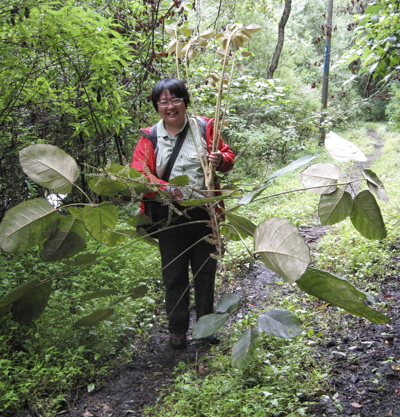 Wen is particularly interested in collaborative efforts, such as her partnership with the Beijing Genomics Institute, as well as the opportunity to apply her research outside of the laboratory. "We train people wherever we go," she says. "I've worked with park rangers, local biologists, and the general public, and have helped to assess biodiversity for several conservation projects as well as assisting national parks in their conservations efforts."
Wen is dedicated to fostering an interest in science among young people as well, particularly through her work with Youth Engagement Through Science (YES!), the Smithsonian's internship program for high-school and college students that gives them instruction and hands-on experience as well as academic and career preparation.
"I worked with three YES! students in the summer of 2013, and it was rewarding to see their progress," she says. "I believe in starting to inspire the students while they're still in high school, as well as to invest heavily in college interns. The most gratifying part of my job is the opportunity to work with young students, to stimulate their interest in biodiversity, and help them grow as evolutionary biologists."